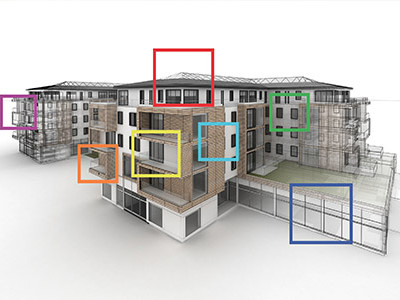 The Integrated Facade Solution from Prima Systems
The integrated facade solution offers a wide range of glazing and facade products alongside a streamlined solution focused approach. It also provides a platform for continuous advice and support throughout the project.

You can view our interactive building which offers further information on the glazing and cladding products we offer.
The external view of a building is of the upmost importance. Its function is to protect the building from the elements but it can also be the very definition of the building itself. The extensive options now available are considerably more complex and require a higher level of interface detailing between the various trades to ensure that both the visual and performance aspects are achieved. This can often lead to disputes regarding the responsibility of each supplier resulting in build schedule delays and increased costs.
By choosing Prima as the sole facade contractor on your project we take responsibility for the entire external facade and act as the interface between all parties involved saving you time, money and resources.
The experienced team at Prima will design, supply and install all the glazing elements including windows, doors, curtain walling and solar shading as well as glazed roofs, canopies, atriums and balustrades. With the recent addition of rainscreen cladding and render options Prima will help to ease the strain of your construction project.
To find out how Prima Systems can help streamline your glazing and cladding facade contracts please contact the team on 01304 842999 or email enquiries@primasystems.co.uk.